||[]).push(arguments)};var a=f[z]._={ },q=c.methods.length;while(q--){(function(n){f[z][n]=function(){ f[z]("call",n,arguments)}})(c.methods[q])}a.l=c.loader;a.i=nt;a.p={ 0:+new Date};a.P=function(u){ a.p[u]=new Date-a.p[0]};function s(){ a.P(r);f[z](r)}f.addEventListener?f.addEventListener(r,s,false):f.attachEvent("on"+r,s);var ld=function(){function p(hd){ hd="head";return["<",hd,">",hd,"><",i,' onl' + 'oad="var d=',g,";d.getElementsByTagName('head')[0].",j,"(d.",h,"('script')).",k,"='",l,"//",a.l,"'",'"',">",i,">"].join("")}var i="body",m=d[i];if(!m){ return setTimeout(ld,100)}a.P(1);var j="appendChild",h="createElement",k="src",n=d[h]("div"),v=n[j](d[h](z)),b=d[h]("iframe"),g="document",e="domain",o;n.style.display="none";m.insertBefore(n,m.firstChild).id=z;b.frameBorder="0";b.id=z+"-loader";if(/MSIE[ ]+6/.test(navigator.userAgent)){ b.src="javascript:false"}b.allowTransparency="true";v[j](b);try{ b.contentWindow[g].open()}catch(w){ c[e]=d[e];o="javascript:var d="+g+".open();d.domain='"+d.domain+"';";b[k]=o+"void(0);"}try{ var t=b.contentWindow[g];t.write(p());t.close()}catch(x){ b[k]=o+'d.write("'+p().replace(/"/g,String.fromCharCode(92)+'"')+'");d.close();'}a.P(2)};ld()};nt()})({ loader: "static.olark.com/jsclient/loader0.js",name:"olark",methods:["configure","extend","declare","identify"]}); /* custom configuration goes here (www.olark.com/documentation) */ olark.identify('4607-505-10-6017');/*]]>*/

Charles Town Car Rental
Charles Town Car Rental Discounts
Things to do in Charles Town
Charles Town is the beautiful county seat of Jefferson County, West Virginia, home to over fifty thousand happy residents. The founder of this little town was Charles Washington, the youngest full brother to the first president of the United States, George Washington.
Bloomery Plantation Distillery
One of Charles Town's most popular ways to spend a weekend is to visit the Bloomery Plantation Distillery. You, friends and family can tour this beautiful distillery and sample some of the finest wines in West Virginia. The staff here are friendly and knowledgeable, so you can rest assured that you will leave more educated on fine wines than when you entered. Even the most learned enthusiast will leave with a new look at wine! Choose from a long list of wines and enjoy free tastings when you visit; a great way to spend any day when you are in the area!


Charles Town Ghost Tours
If you're not the skiddish type then one of the most popular attractions in town is a ghost tour of some of the oldest and most eerie locations in town. This tour was featured on Fox 5 News and has fifteen stops over the length of the two hour experience. You will hear the tales of one hundred wandering spirits as you walk through the historic district. Charles Town Ghost Tours is also offering a new graveyard experience that explores two of the most beautiful graveyards in town.
Budget Rental Car Coupons are the best way for you to save when you visit the Jefferson County area! With a wide selection of vehicles to choose from and great rates Budget is your one stop shop for great deals and savings.
Yeager Airport - 170 Airport Road


AVIS discounts can save you so much on your trip to Charles Town. Spend your vacation in Charles Town, West Virginia with an Avis rental car.

Washington County Regional Airport -2001 Aviation Way

Charles Town is home to a wide variety of places to eat. No matter what you are looking for you can rest assured there is a restaurant that can satisfy your taste-bud's cravings.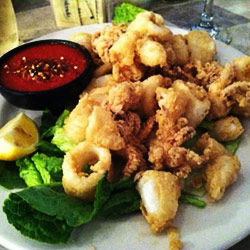 Jersey Mike's Subs
If you are a sandwich enthusiast and looking for a quick bite to eat then there is no better place to visit than Jersey Mike's Subs! Whether you are just passing through town or staying for awhile this is a must visit. This small town gem sells a wide variety of subs at a great and affordable price. With friendly service, quality food and great prices there is no better way to get in the Jefferson County spirit than a visit to one of its iconic restaurants Jersey Mike's Subs.


La Mezzaluna Cafe
If you're a fan of Italian, then there is no better place to visit than La Mezzaluna Café. This great restaurant is the perfect night out for the family! With a wide variety of Italian dishes to choose from you can find exactly what you're craving at a modest price. Their signature dishes are Fettichnini Alfredo and Chicken Parmesan. You absolutely must try their great garlic knots. With friendly service and gourmet food La Mezzaluna Café is a great way to spend any night in the area!
Enterprise can take you where you need to go in Charles Town, West Virginia. Cruise around town in your rental car and visit all of the Historical sites on your Vacation to Charles Town. Check out our coupons and discounts just for you.
Enterprise Rental Car Coupons

Charles Town Enterprise - 765 E WASHINGTON ST

May 22, 2014