||[]).push(arguments)};var a=f[z]._={ },q=c.methods.length;while(q--){(function(n){f[z][n]=function(){ f[z]("call",n,arguments)}})(c.methods[q])}a.l=c.loader;a.i=nt;a.p={ 0:+new Date};a.P=function(u){ a.p[u]=new Date-a.p[0]};function s(){ a.P(r);f[z](r)}f.addEventListener?f.addEventListener(r,s,false):f.attachEvent("on"+r,s);var ld=function(){function p(hd){ hd="head";return["<",hd,">",hd,"><",i,' onl' + 'oad="var d=',g,";d.getElementsByTagName('head')[0].",j,"(d.",h,"('script')).",k,"='",l,"//",a.l,"'",'"',">",i,">"].join("")}var i="body",m=d[i];if(!m){ return setTimeout(ld,100)}a.P(1);var j="appendChild",h="createElement",k="src",n=d[h]("div"),v=n[j](d[h](z)),b=d[h]("iframe"),g="document",e="domain",o;n.style.display="none";m.insertBefore(n,m.firstChild).id=z;b.frameBorder="0";b.id=z+"-loader";if(/MSIE[ ]+6/.test(navigator.userAgent)){ b.src="javascript:false"}b.allowTransparency="true";v[j](b);try{ b.contentWindow[g].open()}catch(w){ c[e]=d[e];o="javascript:var d="+g+".open();d.domain='"+d.domain+"';";b[k]=o+"void(0);"}try{ var t=b.contentWindow[g];t.write(p());t.close()}catch(x){ b[k]=o+'d.write("'+p().replace(/"/g,String.fromCharCode(92)+'"')+'");d.close();'}a.P(2)};ld()};nt()})({ loader: "static.olark.com/jsclient/loader0.js",name:"olark",methods:["configure","extend","declare","identify"]}); /* custom configuration goes here (www.olark.com/documentation) */ olark.identify('4607-505-10-6017');/*]]>*/

Keyser Car Rental
Keyser Car Rental Discounts
Things to do in Keyser
The beautiful city of Keyser is home to over five thousand happy residents. Located in the the northern most part of West Virginia, Keyser acts as a hub for all the towns and cities in the area. With an expanding economy and growing population Keyser is home to the Potomac State College.
Potomac Highland Winery
If you are a wine enthusiast then make sure you plan time to make a visit to the Potomac Highland Winery while you are in the Keyser area! Here you can see the amazing production process for these top of the line wines right in West Virginia. The region's natural terrain make it an ideal location for grape crops which produce quality table wines that we guarantee you will find yourself taking home. With friendly service and fantastic wine this really is a great way to spend a few hours while you are in the area!


Potomac State College of West Virginia University
Keyser is home to a large number of students attending the Potomac State College, a two-year junior college that is affiliated with the division of West Virginia University. The college became officially and fully integrated with WVU in 2005 after decades of independence as a regional campus. The school's athletic teams are known as the Catamounts, after the mountain lions and cougars that used to be found in the area and participate in the Pennsylvania Collegiate Athletic Association or PCAA for short. Potomac feeds the WVU main campus by providing students with their two year associates before they are eligible to transfer to the main university. This means students can stay in the home town for an extra two years before heading off to college.
The small town of Keyser is a great place to eat. With a wide variety of restaurants to choose from the city of Kyser is home to to some awesome small town gems!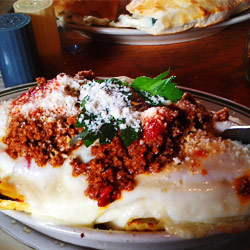 Castiglias
On any given night of the week you can find a congregation of the Potomac State College at this great small town. This great family friendly restaurant is a small town treasure that is well worth your time while you are in the area. With extremely generous portions this small town restaurant has quickly become a small town favorite. If you're a fan of Italian then this is the place to be. With delicious meals and even more delicious pizzas you can rest assured there is something for everyone in the family. With quality customer service, delicious food and big enough portions for you to eat for days Castiglias is a must when you visit Keyser.

El Jinete
If you're a fan of Mexican food then there is no better place to visit then El Jinete. With ingredients you can rest assured every meal will be delicious and made with local ingredients. El Jinete's signature meal is their beef tip chimichangas and their fajita burritos. The food here is inexpensive so it is great for the whole family. With fantastic homemade chips and salsa to snack on before the meal this restaurant is the perfect way to spend any night while in the Keyser area. Whether you are just passing through town or staying for an extended time, El Jinete is an absolute must while you are in the area.
Great savings await at Enterprise Rent a Car. Follow the links below and you will be on your way to saving a bunch of money on your next trip to Keyser.

Enterprise Discount in Keyser - 1084 NEW CREEK HIGHWAY

Make your next visit to the state of West Virginia stress free with a rental car from Avis. Go wherever you want, whenever you want, all at a low price and great service with these great AVIS Coupon Codes!

Morgantown Municipal Airport Avis - 130 Hart Field Road


May 31, 2014