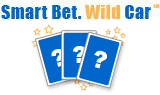 You will get the best deals with our Wild Car deal - where we pick a midsize or larger vehicle for you at a rate that is ALWAYS lower than the price of a standard mid-size rental. When you arrive to pickup your car, we'll look at the inventory and assign you a midsize, fullsize or even an SUV at the Wildcar rate. You can't lose! You get a great vehicle at a great rate, with room for at least 5 passengers and 2 luggage pieces. Here are the benefits:
Always priced lower than a Mid-Size car
You will get at least a Mid-Size or larger vehicle
We will determine your vehicle at time of pick up
---
Tampa is one of the many great cities in the state of Florida. Centrally located on the west coast of Florida, Tampa is a major port city and business hub. People the whole world over flock to Tampa's pristine gulf of Mexico beaches, fine museums, and Busch Gardens theme park. There's a a lot to see and do in Tampa, and all that seeing and doing isn't going to be accomplished on foot. Tampa is a city where you are going to need a car to get around. That's where Rental Car Momma comes in. The Momma has great rates on car rentals in Tampa. Just enter the Tampa International Airport code (TPA), plug in your dates, select a car type, and you'll get some great rates on rental car. Rental Car Momma makes it easy for you to save.

Once you have a means to get around, go visit some of the famous sporting venues in the Tampa Bay area like the Raymond James Stadium. This is where the great NFL football team, the Tampa Bay Buccaneers, play and where Super Bowl 43 will be held in February of 2009. Raymond James is one the more stunning stadiums in the NFL. When it opened in September of 1998, the stadium was called the "crown jewel" of the NFL. It can hold up to 75,000, boasts 2 gigantic 92-foot wide video screens and it has one the most distinctive features of any NFL Stadium, full scale replica of a pirate ship. Raymond James is a must see when in Tampa.

Another venue to visit is the Tropicana Field in St. Petersburg. This is the place that the Tampa Bay Rays (who have one their first American League East title in franchise history) call home.